Fencing contractors in Erode
Welcome to Subi The Best Fencing Contractors in Erode
Erode lies in the northern part of Tamil Nadu, sharing its border with Salem and Tirupur. Erode is known for its textile industries, Handloom products, and mango cultivation. And turmeric cultivation in erode is Quite famous throughout the nation. Erode is known for its Animal husbandry and inland fishing. India's largest textile mall is located in Erode District. Subi fencing contractor, we are one of the finest Fencing contractors in Erode District.
We had covered All over the Erode district and done many fencing installations. With nearly 18 years of experience in Erode District, we are one of the leading fencing contractors in erode. Erode has many sectors, from manufacturing to agricultural-based industries. And we have done different kinds of fencing services for different environments.
We had given our fencing installation on services from Spinning mills to horticulture forms like mango farms, Tropica Farm, And a Few parts of erode having cotton cultivation, which can be used for spinning mills. So, Only we are known as the best fencing contractors in Erode.
Subi contractors, we have had successful relationships with Erode District people for 18 years. And we have installed More than 1000 fencing and RCC compound wall Successfully. We had traveled to erode district for every corner and knew what Kind of fencing and RCC work would suit the environment. We can do any fencing and RCC compound installation At a reasonable price.
Moreover, we have our manufacturing unit where all the fencing and RCC compound wall materials are manufactured in high quality. Moreover, Erode has many garment manufacturing industries, Animal husbandry, and Fruit horticulture industries. Our fencing service will be more beneficial for these people. As we are giving our service for all the environment we are known as the best fencing contractors in Erode.
Why choose Subi Fencing contractors as your fencing contractor:
- Subi Fencing contractors we are having nearly 20 years of experience in the fencing field.
- Having the most expert fencing-related workers with us and everyone knew what Kind of fencing work would be suitable. For your environment, according to your surroundings.
- All fencing materials and RCC compound walls are manufactured within our manufacturing unit.
- We will prefer quality and have our quality assurance team.
- Will be dedicatedly a lot And supervisor till We finish the fencing or RCC comparable installation.
- We will give the best estimation, and you can call us at any time on all the days in a week.
- We can create customized RCC compound walls according to a need And design.
Due to a systematic approach in our work we are known as the Best Fencing contractors in Erode
What are the benefits of installing Fencing and RCC compound walls:
- You can protect your land or property by Creating a boundary line.
- Installing your face will help you increase your protection and security with more privacy.
- You can safeguard your farmland from wild animals and animal threats.
- It will be the best investment, and you can create your boundary. So that no people are animals can enter the property. Moreover, there are many threats regarding land encroachment, and you can safeguard your property from those kinds of people.
- Compared to building A standard wall, Fencing and RCC walls will consume only 30 to 35 percent of the Money.
- It will be affordable And last for an extended period. So, to enjoy these kind of Benefits please choose best fencing contractors in Erode.
Our Moto:
To create a healthy competition with our fellow competitors and give good service to our customers on the client at top-notch quality. Customer Certification and happy nurses are the priority of our company.
More over we are giving important to our customers satisfaction many has shared their views as we are the best Fencing Contractors in Erode they ever met.
What threats are there for Erode district people?
- There is a significant threat of wild animal attacks on the farmlands. And most of the crops and trees were damaged and destroyed Due to their entry Search.
- There are many turmeric's and Mango farms around Erode, and many theft activities are often happening. And it is affecting the revenue for the property owner.
- At night-time, many people try to enter the farmland without the farmers' knowledge. And most of the people are trying to destroy the crops.
- There are many Warehouses around to stuff textile materials And garment materials inside. Recently, many theft activities have been happening in the Warehouses, which do not have any boundary Protecting walls around them.
- As erode is one of the developed districts in Tamil Nadu. People like to buy properties around erode and Near Tirupur. If their property is away from their eyes, there are many chances of land encroachment activity, and they may lose their property.
As we are know as the Best Fencing Contractors in Erode we can give best solution for your problems
Products which are manufactured by Subi Fencing 
Back in 2006, we started our service in finishing the installation, and Due to customer need, we started our Fencing manufacturing unit later. We have started manufacturing of own products in our manufacturing unit. We currently do all the Fencing and RCC compound manufacturing and installation service.
We are manufacturing Products like:
Chain link Mesh

Razor wire

Barbed wire

Fencing poles

RCC compound wall

RCC compound slab
And we are doing all the installation service for above products.
Chain link fencing is the most preferred material in the Erode district as it has a soft surface without any thorn extension. People who own private property or spinning Mill can prefer to install chain link fencing.
Razor wire supplier in Erode:
In razor wire fencing, a blade kind of particle will be projected from the fencing wire. And it is the Sharpened Surface That gives more high security and protection. People who are warning and farming land are mango farms, with high wild animal movement. They can Install reservation signs so that no people are animals can try to enter your farm. Or else you can build a compound wall. Above it, you can insert a razor wire fence so that no one tries to climb above the compound wall. Razor wire fences will be more suitable for people who need a higher kind of security.
Barbed Wire supplier in Erode:
Barbed Fencing, in which thorn structure will be Projected from the fencing wire, is Suitable for all Kind of Environment and all Kind of business sectors. It is suitable for Real estate, Commercial land, and agriculture farms. It is one of the cheapest solutions for people with high security and privacy. People warning private properties or commercial land in the outer Skirt off Erode town can think about fixing a barbed wire fence and creating an identification boundary.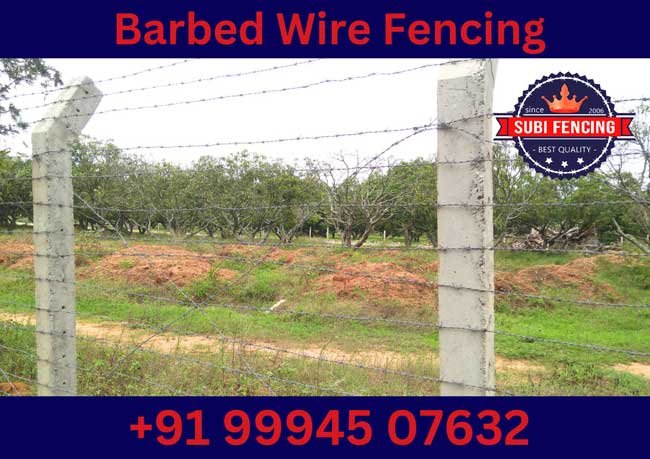 Fencing poles supplier in Erode:
Fencing policies are one of the by-products of fencing installation services. These polls of manufacture by many Kind of products such as stone, Metal, And concrete. The fencing wires will be fixed using these poles, giving a Fencing wall structure. As we have many options in fencing poles according to the client and customer needs, we can choose One of the products from it According to the budget and estimation.
RCC compound wall Service in Erode:
RCC compound walls and the wall structure is done using Concrete slabs, Which will be placed above one by one to create a Wall structure. People willing to construct a wall without Money can choose the RCC compound. Wall is another option and will consume only 35 percent of installation on Regular Compound walls.
RCC compound slab  Supplier in Erode :
RCC compound slab is one of the various designs. People can offer an RCC compound slab according to their budget and estimation. And people who are willing to construct a compound can Think about building and compound words using RCC compound. And it will be more affordable.
The above-given products are all manufactured in our manufacturing unit. And we have our quality checking team, and they will be taking care of the quality of our product. So, you get the product from us without any damage and with excellent quality. And we have the best work to finish our Fencing and RCC compound installation at the planned time.
You can contact us using the following number +91 99945 07632 . To know about our finances, services, what Kind of products we are manufacturing, and what Fencing projects we have done until now. You can be able to visit our website www.subifencingcontractor.in For more details. We are available for all the videos in a week so that you can call us at a new feasible time on weekends.
And we will guide you from the beginning to the end of fencing service and installation at the best price. So try to contact us as soon as possible. Due to we are available all the days for consultation and guiding we are known as the Best Fencing Contractors in Erode.