Subi Fencing is the Best Fencing Contractors in Pondicherry
Pondicherry is a Union territory which lied in the southeast coast of India and bordered by the bay of bengal on the east and it's a mixture of French and Indian Culture. It's well known for the scenic beaches, Spiritual places and Historical places. Pondicherry is mostly based on Tourism, Handicraft products and Foods.It has a chemical industry producing various industries like pharmaceuticals, cosmetics.  
Subi fencing contractors in Pondicherry doing fencing works and fencing poles installation service  for the past 16+ years in Pondicherry.As the Pondicherry has a high number of chemical industries its important to do fencing in their company. Subi fencing  contractors in Pondicherry have done a large number of fencing works for our customer in Pondicherry.
Why should you choose Subi fencing contractors as your fencing contractor:
We Subi fencing contractors in Pondicherry have experience nearly 18 years in the field. 

We know which kind of fencing will be suitable for your place. 

We have our own manufacturing unit so we give the best quality  and best price in the field.

Our workers are having more than 10 years experience in the fencing field

We'll allocate a supervisor to check the work is done in the best way without any disaster happening till the end.

We will be in contact with our customer after installing our product.   
Why is fencing is important in Pondicherry:
Pondicherry is a rich heritage and cultural city. It has ancient sculptures and architectural places. So These will attract tourists. So fencing is the best way to protect these kinds of things. There are so many Ashram situated in Pondicherry. To protect those RCC compound walls is the best one.
Our Moto:
Creating and healthy competition within our Fellow competitors. Being best fencing services to the customers Beloved clients with full satisfaction and fulfilment. Making Customers happy is our first priority. Many of our clients were reviewed as best fencing contractors in Pondicherry.
Services given by Subi fencing contractors in Pondicherry:
At the beginning we had started our company with fencing, installation and services. Later on we started our own manufacturing unit for our customers convenience so that we are able to create our own fencing materials with high quality. We are giving services like:
Such as:
Chain Link mesh
Barbed wire dealer
Razor wire dealer
RCC compound wall supplier
RCC compound slab service
Fencing Poles service
Chain link mesh in Pondicherry:
We Subi fencing contractors in Pondicherry provide chain link mesh service for our customer in best quality.  The fencing looks like a diamond shape with a zigzag line. It has a smooth surface so it will not harm anyone. But no one can insert their hands or legs into it, because it has a small gap. It's a cost effective one.
Few of the models of chain link fencing or listed below
basic chain link fencing

chain link fencing with stay wires

Chain link fencing with barbed wires

chain link fencing with bend post barbed wire

rooftop chain link fencing

garden chain link fencing

kid's a play area, chain link fencing

PVC-coated chain link fencing
Barbed wire dealer in Pondicherry:
Barbed wire fencing is the best fencing for protecting valuable things. The fencing has a rough surface and it has sharp edges in it. So no one will try to enter through it. In Pondicherry there are a lot of architectural places located so it's better to install barbed wire fencing.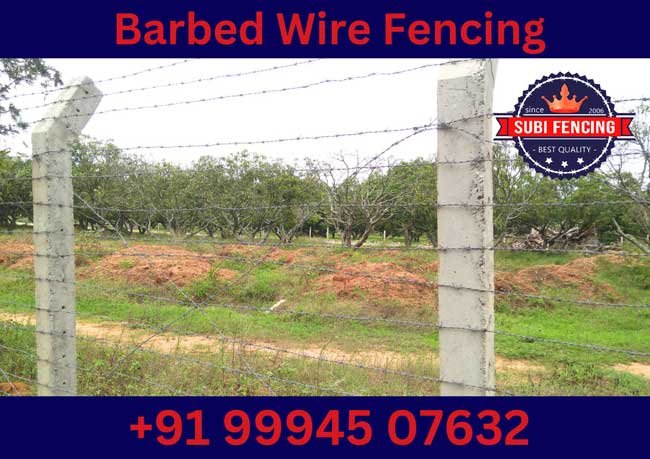 At Subi fencing. We have many types of barbed wire fencing models few are listed below
X model barbed wire fencing

line model barbed wire fencing

U model barbed wire fencing

box model barbed wire fencing

wall top y angle barbed wire fencing

wall top angle barbed wire fencing
Razor wire dealer in Pondicherry:
Razor wire fencing has a criss cross pattern to create a threatening barrier. It has a rough surface with small blades.Its the best one for high security areas. People who have valuable things in their place can think of razor wire fencing.
RCC compound wall supplier in Pondicherry:
Those who own Ashram in Pondicherry can think of installing an RCC compound wall. It has  more security, high durability and resistance in all types of weather and it has low maintenance. It gives privacy to your places. We have our manufacturing so we give the best quality.
RCC compound slab service in Pondicherry:
RCC compound slab is material which is made of layers of concrete infused with steel bar and mesh to create a slab for compound wall. We have our own manufacturing unit. So we can make designs based on customer needs.
 Fencing Poles service:
Fencing poles is one of the by-products for fencing installation. These products are available in many materials like Concrete, stone and metal fencing poles. All the fencing poles are manufactured in higher quality.
ISO quality products:
All the materials are manufactured with ISO qualities. So we will guarantee that the materials we manufacture are good quality. And we are using German technology machines so all the products will come in exact shape.
Free transportation:
We are giving free transport services for all bulk orders for fencing and compound wall installation. And we are very connected to all the parts of Tamil Nadu and South India. We can transport all the materials to your respective place. You can contact us by saying the following number+91 99945 07632. for more details about our services, you can go to our Website for more details and what kind of service we are doing.
Testimonials:
Tamilarasan:
Tamilarasan owns a cow farm in his area, there are some animal attacks  happening in his area. So he planned to protect his cow farm from the attack. He contacted us for fencing work, and we suggested him do chain link fencing. Because it has a smooth surface so animals can't hurt themself. He is happy with our service and our products.
Any time you can call us for expert opinion for Barbed wire fencing in pondicherry