Salem is one of the industrial, agriculture oriented district in Tamil Nadu. Salem is one of Hub for steel hub of manufacturing in Tamil Nadu. Salem has major cultivation of mango, Tapioca, Paddy, Sugar cane and so on. As Kaveri rivers running through Salem District has good drip irrigation system for agriculture.
Moreover, Subi fencing contractors in Salem we had doing our fencing and RCC compound Wall Installation service for more than 16 years in Salem District and we are having our own office in Salem City so that people can able to come and contact us or visit us Impersonal for better consultation and estimation.
We Subi fencing contractors in Salem are done more than thousands of fencing service and installation in Salem District, so we knew what kind of. Friends and RCC compound will be suitable in Salem environment.
We have different quality materials for each industries from agriculture to manufacturing. So we will be guiding you from the beginning to end according to their environment and surroundings. In case if you need an customised fencing and compound wall work, we are expertise in manufacturing In customized fence and wall
As Salem is having large number of coconut Farm and Mango Farm Our fencing installation services will be more useful to protect your farm from theft and animals. For our dedicative work we are known as the best fencing contractors in salem.
Why to choose Subi fencing contractor As you are fencing contractor?
Subi fencing contractors in Salem We are doing fencing service and RCC compound wall service through Tamil Nadu and same district for more than 18 years. As we are in the Fencing field for more than 18 years, We are well expertise in all kind of financing and RCC compound wall installation. Moreover, we are having our own working force who are expertise for more than 10 years. Way back in 2006, we have started our fencing service. Lately we had introduced a manufacturing unit where all the fencing and RCC compound wall Materials are manufactured in higher and quality. As we are using German machineries for manufacturing fencing materials, we are giving assurance that all the materials which are coming out from a manufacturing unit will be with higher and quality. As we are known as the best fencing contractors in Salem you can choose us for your work
What are the benefits of Installing fence and RCC compound Wall:
You can able to secure our property or Farmland From animals And other people.
 You can create your own boundary for industrial area so that you can be able to monitor who is coming inside your boundary.
My rising Fence in your property which are Play still in the outskirts of your city area. You can able to create an Boundary Show that you can able to protect you Property from land encroachment. You can able to create an identification by creating a fence or RCC compound wall.
In case you are owning and mango farm or any kind of agricultural land You can able to create an boundary using fencing or RCC compound wall so that you can able to protect your crops and trees from animals and humans.
Rising and RCC compound wall with Which 6 feet height for your industry or any kind of manufacturing unit to be useful for you so that no people or thieves can able to enter into Your boundary without your knowledge. Additionally you can Place razor wire fence above the wall show that no one can try to climb above your wall.
What kind of fence Will be useful for your Farming land?
If you are an farmer, or you are Warning and mango form creating a Barbed wire fence will be more. Suitable for you and it is a very PC to install a fencing wall In short period of time. Using barbed wire you can create many kind of design fence like X model fencing, Box model fencing, Line fencing. This kind of fence is also suitable for commercial properties.
How an RCC compound wall will be useful for you?
If you are willing to build a wall for your real estate property And for your industrial area. But you don't have the Exact budget amount for constructing an traditional wall You have an alternative choice of building a RCC compound wall by placing multiple slab One by one and giving and Volt kind of structure. Moreover, RCC compound wall will be Charged only the 30 percentage Money which you are using to build and regular traditional wall. It can be installed In a short period of time, so you no need to wait for a long period of time.
Company motto:
To create a healthy competition with our fellow competitors. And giving best quality service and fencing installation for clients and customers and making Them happy with the work with full satisfaction.
What was the services and Products are been given by Subi fencing contractors in Salem?
As we had spoken already, we are having our own manufacturing unit. Where all the fencing and RCC compound wall products are being manufactured in high quality manner. We are manufacturing products like:
Chain link mesh

Razor wire fencing

Barbed wire fencing.

Fencing poles

RCC compound wall.

RCC compound slab.
Chain link mesh in supplier in Salem:
In Chain link mesh the fencing Wire will be twisting with each other and creating and diamond shape. With smaller gaps it will be having an soft surface without any thorn kind of object projecting from it. People who is running an animal husbandry or any kind of cattle farm Can install channeling fence for their fencing Walk because it will be not be a threatening for your animals when they passed near it.
Barbed wire fencing in Salem:
The most used fencing Type through Tamil Nadu and Salem district. As it has a Sharp surface and it can be customized according to Your need. For example we can able to do Barbie fencing in mini model searches X Shaped fence, Box fence, Zigzag fence And so on. In case if you are farm land Your commercial property is lying In heavy animal movement area, this kind of fence will be very suitable for you and it will come under your budget.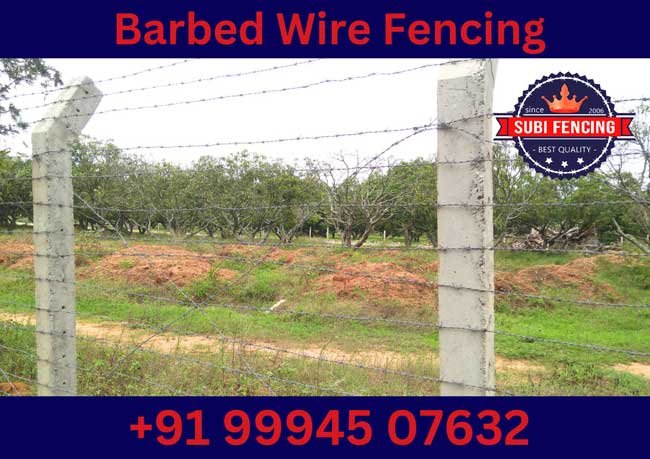 Fencing poles suppliers in Salem:
Fencing pole is the by-product For fencing installation where The fencing pole will be used to withstand the fencing wire To create a fencing wall. These fencing poles are manufacturing by Different materials such as concrete poles, metal poles. And stone poles.
RCC compound wall in Salem:
RCC compound wall is a precast wall which is used to create a world kind of structure in a short period of time. People who are willing to build an wall Instead of building and fence, they can think about RCC, compound war and No one can able to see What is inside your farm Land or property as it is covering All the area for 6 feet height. And we are known as the best fencing Contractors in Salem.
RCC compound slab in Salem:
RCC compound leaves one of the by-product which is used for installing RCC compound wall. These slabs can be manufactured in various designs and we can able to customize according to the customers need as we are having our own manufacturing unit. By creating a customise design for a world, you can create a separate identification for your property or industry. So that people can able to Recognise your property or industry.
Testimonial:
Kathir:
Kathir is owning a Mango farm with 10 acres and He felt hard to protect his. Mangoes and trees from theft activities. We gave our Service using barbed wire fence. very happy with the service And he shared his opinion about our fencing work The teddies withstanding all kind of weather conditions and now he can able to protect his mango trees from theft activities and animals. Moreover, he is willing to do all the fencing and RCC compound wall installation using our Subi Fencing contractor services.
Mohan:
Mohan is an young entrepreneur who is owning a Small scale of spinning mill In Salem district. He came with an problem of unwanted people movement in night. So we created a RCC Compound Wall with Razor Wire fence at the top and he is happy with our service. And he asked us to do the work minimal budget, as he is running out of money. But we done the RCC wall installation and Razor Wire Installation in the budget as per his request. And the product came with the best Quality with no compromise in quality.
To know about our Fencing Service please visit our website www.subifencingcontractor.in. So that you can able to know about our Fencing works w had done and you will come to know about our works which are going currently. You can call us at the following Phone Number +91 99945 07632. We will be available all the days in a week so people can able to contact us at any time from 8:00 am to 7:00 pm. For free consultation and estimation please contact us as soon as possible.