Subi Fencing is the Leading Fencing contractors in Chennai which provides all type of fencing work in Chennai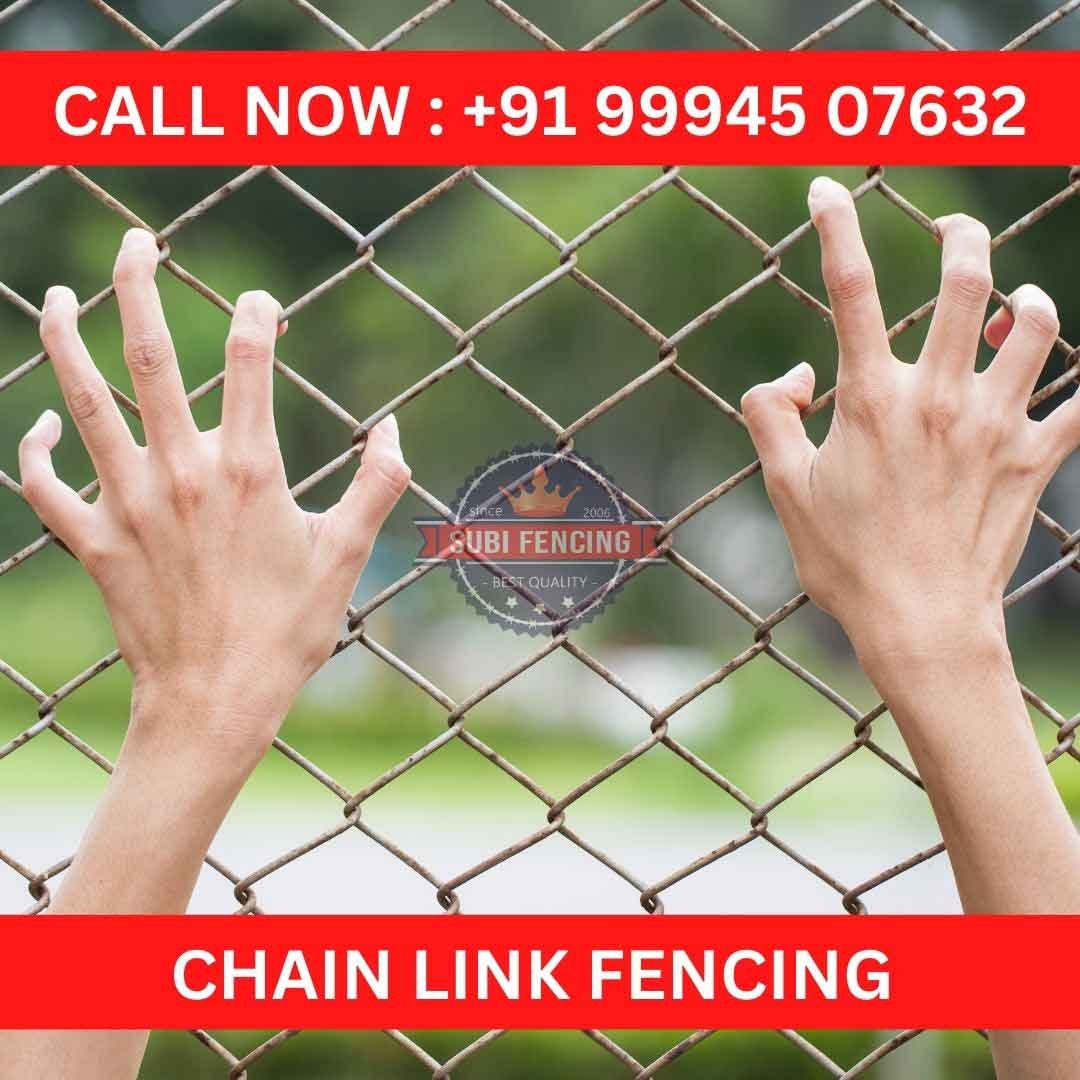 About us
Subi fencing contractors were established in the year 2006. In the beginning, we were doing fencing service. And we have had a great name, Fencing and RCC compound service, for the past 17 years. Lately, we have started our manufacturing unit to produce high-quality fencing materials according to government norms and regulations for the betterment of our clients. We undertake Fencing contracts for real estate, Construction sites, gardens, agricultural land and more.
We have a manufacturing unit with higher-end machinery, which facilitates the production of quality fencing and RCC wall. Moreover, we have our Quality checking team to ensure all the. Products with higher quality and flawless. We have agents across South Indian States like Karnataka, Telangana, Andhra Pradesh, Kerala, and Pondicherry, so our clients will be more convenient to contact us. Yes, we have the white distribution setup.
Around South India, we can send all the fencing materials on time without delay. And all the products are done using government-standard quality materials, so our fencing work will be highly durable and last for at least a decade.
As we are giving the Best fencing materials and services, we are known as the best fencing work in Chennai and Tamil Nadu.
Our Team
With nearly 20 years of experience, we have created our Team with highly Quality Qualified employees and workers. Show that all the fencing works and services manufactured will be done in higher quality. We had structure management to ensure all the services. And products are of higher quality.
Our Team included with
Engineers.
Skilled labours.
Sales and marketing team.
Manufacturing team.
Warehouse and packaging experts.
Logistic experts.
Quality analyst.
Fencing consultants.
Qualities are our priority:
With more than 17 years of experience, we have our quality checking team with quality analysts. To ensure all the products are manufactured on the higher end. Apart from manufacturing, we have our professional testing machines to ensure all the products are coming without flawless and highly durable. In the end, after doing machine testing, human testing is also done to ensure all the products are of good quality as multiple tastings are done for our products in our manufacturing unit, confident that our product will be more long-lasting with high performance.
Why choose Subi fencing contractors?
Subi-fencing contractors are the fencing field for more than 17 years. And We have good experience with product knowledge and customer needs. As we have our Core manufacturing unit, we can produce our Fencing Materials at higher quality to ensure all the fencing works are done for clients of good quality. We are following our ethics while doing our business deals. And giving the clients reasonable industry standard pricing.
In case you are. Purchasing the fencing materials in bulk, we will be transporting all the materials to your respective location With reasonable pricing.
Galvanised wire
We manufacture all the fencing wires with Corrosion resistance, and all the manufactured fencing wires are well galvanised with zinc. It will be coated with an outer layer that protects the iron wire from rusting. Arnaldo fencing works are done with well-galvanised wire so that all the fences are highly durable.
Barbed Wire
The primarily preferred fencing wire for all the clients. And we also prefer to do. With barbed wire, You need high protection for their properties. And the barbed wire is manufactured with GI-coated wire with twisting with a thorn-like structure coming out of the wire with 7-inch space. With a sharp surface, it gives more security for all the client properties. As it has a strong structure, no one tried to enter the properties by claiming it.
If you own agricultural land or your property is light and outskirts, there will often be More problems. With animals in case, if you use barbed wire as it has a rough and thorn kind of Surface, no animals can try to damage your fence.
Razor Wire:
Razer wire is fencing that gives more security than barbed wire. It has a blade-like structure that will be projected from the fences so that It has a more sharpened blade-like outer Surface. It is preferable for people who need higher-end protection for their properties. Suppose you want to protect your property from burglars and thieves. You can build a compound wall at the top and place razor wire around it so that no one can try to climb it and enter you. Properties, houses, or buildings.
Razor wire can be used in areas with many bugler and theft threats if you place a reservoir above your wall or your compound. It will create a rough surface so no one can touch it or climb it. And it will give more security.
Chain link mesh:
In chain link mesh, GI wires will intersect with each other. With and Diamond Gap, so that. It will create a world-like structure using fencing wires and cover with smaller gaps as it has only tiny gaps. In between, no one can project their hand inside the fencing, so It is high security and protection, giving fencing as it has no sharp surface. It will not hurt anyone, and People also like to use chain mesh fencing for their fencing works.
People considering others' Wellness can use the Preferred chain link mesh because it has no rough surface and will not threaten other people walking near it.
RCC compound wall slabs:
These slabs are done using concrete with steel inside. With various mould shape sheets with different designs, we can produce different types of design concrete walls. We can customise or design walls according to our customer's needs So that customers can place the walls with their designs.
There are. More advantage of using RCC compound walls is that you can cut down the money you use. For building a regular compound wall, you can build an RCC compound wall in a shorter time.
As it covers your boundaries Within a wall kind of structure, no one can see inside, and It creates more privacy than a standard fence.
Stone poles:
Stone poles are the traditional poles used for the fence as they give more. Performance. And it is known for its strength. These stones were. Mind from the quarries. Later, we will give the shape for long stone poles from our manufacturing unit using machine cuts. As we are using machines for cutting purposes, all the stone pools will come in suitable shapes.
As it comes in good shape, It is easier to build a fence around it. People with their properties and agricultural land in outer skirts can prefer stone poles for fencing Works.
Cement pole:
Cement poles Alternatives for the stone pole. Simon polls are manufactured using concrete, With iron material. Which steel rod is inside it? Cement poles are available at various rates according to their quality and manufacturing. If you want to place the fence for and temporary period cement pole will be the best option for you. It is cheaper.
We can be able to customize your cement pole according to your need. For example, we can use High-quality cement for Concrete and steel rods to be more durable and last at least 8 years.
www.subfifdfjalfd.com
Fencing Types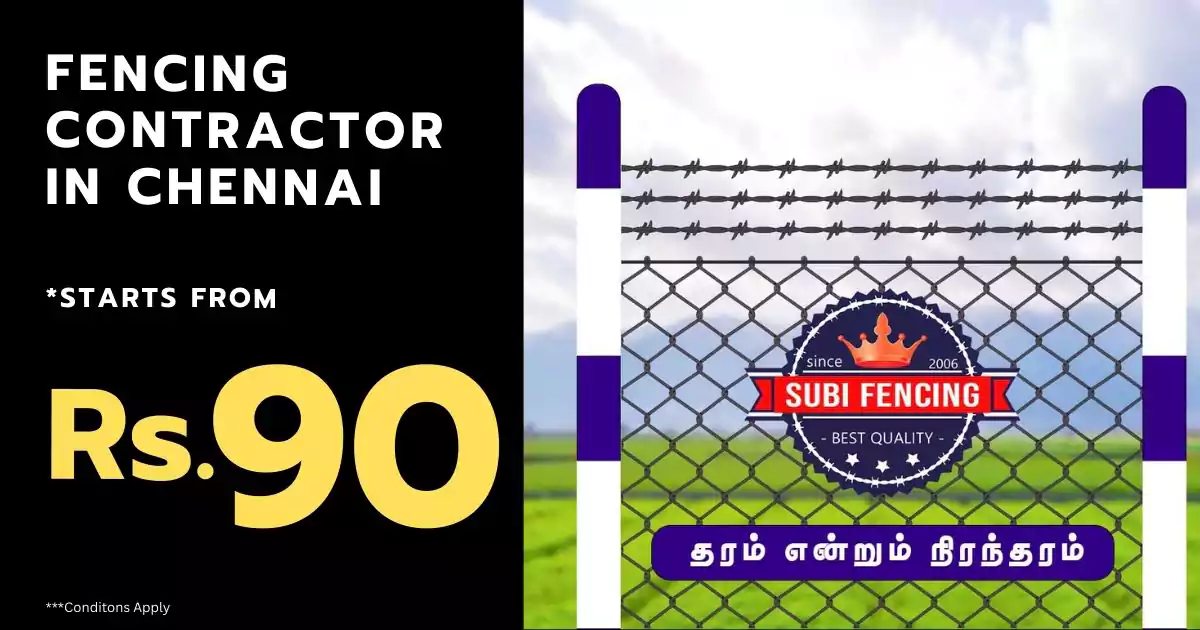 Vision
To become a market leader in all over India. And expanding our business in every corner. with high-quality service and materials and making our clients happy with good consultation
Mission.
To create high-quality fencing and compound wall materials with the latest technology and client recruitment and needs.
Product portfolio
We are the best manufacturer of fencing and compound wall Products with excellent services. We are known for rigid construction, highly durable products and on-time service. As we are producing higher quality materials on giving higher quality services, we are highly acknowledgeable for Real estate owners, construction companies and fencing workers for educational institutes. We are having. Or fencing workers with.
10 to 20 years of experience in the same field. So that All the fencing works we are doing are done in higher quality with less duration of time. We are also taking contract works with consultation and estimation to make it more feasible for our clients and come under their budget.
We do the below materials and services:
Galvanized iron wire.
Chain link fencing.
Razor wire fencing.
Barbed wire fencing.
RCC compound wall
Fencing cement poles and
Stone poles.
We use galvanized iron for the manufacturing of all fencing products. Materials we are giving assurance that is more Corrosion resistant. So that it will be more durable and last for long
Our Products:
Galvanized wire
Barbed wire
Razor wire
chain-link mesh
RCC Compound wall slab
Cement Poles,
Stone poles
Fencing  Services we do in Chennai and all parts of South India:
Chain-link fencing  installation:
We are installing Chain-Link fencing for our client's properties and construction sites. In our manufacturing unit, we are doing galvanized wire chain link mesh with good quality. We are a Supply chain link mesh for our contractors around South India. If our client needs any fencing work, we have our expert Team and labors using them to install chain-link mesh Fences for their properties.
In case you need only chain link mesh, we also manufacture and supply it for you.
All the chain-link fencing Work is done using stone poles and concrete poles. It will Choose our client's preference and their budget. As we have experienced workers, all the fencing work will be done on time with no delay. Sorry, we are known as the
best fencing contractors in Chennai.
Razor Wire Fence Installation:
All the razor wire Our well manufactured in our manufacturing unit, so there will be no compensation for the quality. If the client prefers more security and needs more sharpening, You will do treasure wire fencing for their properties and buildings. It is well galvanized, so it is Corrosion resisted. Reservoirs can be placed above the compound walls in The fencing poles, mainly through the stone and concrete poles.
We are also manufacturing reservoirs individually and supplying them to ours. Contractors Arun, Tamil Nadu, and South India. We can able to. Manufacture razor wire according to their need, and it can be customized well.
We also do fence installation services using Razor wire Without experienced labor and workers. All the fencing installation will be done on time With a good, estimated amount.
We are doing fencing work installation around Tamil Nadu and South India. We are doing barbed wire fencing installation with good Estimation and Skilled labours. We are also manufacturing barbed wire in our manufacturing unit using the galvanization method so that it is Corrosion. We are supplying barbed wire throughout South India for Various contractors. If you are running a real estate or educational institute, if you order barbed wire in bulk will transport The barbed wire with materials to a respective location, and we are giving the best fencing wall installation.
We have done thousands of barbed wire installations around South India and Tamil Nadu for more than 17 years, so we assure you that all the installations will be done Within the planned time duration with high-quality Skilled workers. For this kind of service, we are known as the best fencing work in Chennai and Tamil Nadu.
RCC compound wall installation:
People thinking of building a wall around their property or house will cost more than their budget. RCC compound wall. Will be an alternative solution for it. Moreover, supplying RCC compound wall slabs in bulk around South India, majorly in Chennai city. As we have our manufacturing unit, we are manufacturing RCC compound walls With higher-quality cement and steel materials.
Using cement poles, We can install the RCC compound wall in a short period, which will cut 80% of the amount of construction.
We are also doing RCC compound installation with skilled labors so that we are giving assurance all the installations of the RCC compound will be done in a short period Under your budget. In case you need. RCC compounds lab in bulk You can visit our warehouse, where you can notice different kinds of RCC compounds With different designs. We are giving more options with more designs so that you can choose the best compound that suits your property.
As we are giving our services in the best manner, we are known as the best fencing contractors In Chennai.
Galvanized wire service:
As we are spoken already, we have our manufacturing unit where we are doing Galvanization for all the fencing wires. With high-quality machinery, we are doing galvanization using zinc material so that. Weekend be able to create and separate the Player from the Steel wire so it will resist Corrosion. And we have a Greater number of clients.
Who is buying galvanized wire for their fence work? We supply galvanized wire around South India, Chennai and Tamil Nadu for Other contractors.
Suppose you are a real estate owner and need Galvanized wire in demand. You can order from us in bulk, and we will be transporting all the garden wire with Fencing materials to your respective place.
In case you need fencing wire and higher quality, we can able Manufacturer fencing wire With more excellent quality steel for you. Subi produces the best-galvanized wire in South India. We are known as one of the best fencing contractors In Chennai And Tamil Nadu.
For Fencing work Cost and Estimation:
We are making all the business contracts in a very ethical manner. We have all the products according to Your budget. Even though you have less budget, we are still working on the quality of the fencing work and materials.
If you plan to do fencing work, we have our work consultants who will Explain what kind of work will be suitable for your properties. Before doing any fencing work, we will inspect your area and suggest good work. Do you know about our fensing services and ongoing projects, and what projects have we done until now? You can find all the details on our website, and if you want to contact us by phone, please contact us using the number +91 99945 07632.