Fencing contractors in Tirupur
Welcome to Subi The Best Fencing Contractors in Tirupur
Tirupur is known as the Dollar City of India Text industries and export activities are well established throughout the district. Tirupur District is located near to the Manchester of India called Coimbatore District. And Subi fencing contractors are one of the leading fencing contractors in Tirupur district and we had travelled throughout Tirupur district and we had done various fencing service and installation From animal husbandry to textile industries. 90% of Tirupur occupation is based on. Textile industries on garment industries.
In case you are an Newbie for the textile industry and you are trying to own an. Spinning mill in a smaller scale Are fencing service will be the best option because You can able to create Safe and secure boundary using Fence in low cost. Apart from textile industries, Tirupur has major industries like floriculture, fertilization industries, Animal husbandry Dairy industry and so on. Our fencing services and fencing installations will be very suitable for all kind of industries from service oriented Manufacturer oriented sectors. And we can able to create custom fencing according to your needs and environment.
Moreover, we have travelled nuke and corner throughout Tirupur So we knew what kind of films and RCC compound types will be Feasible for you. Subi fencing contractor We are well concentrating to the customer satisfaction and customer need, so we will be giving all the services In reasonable price, so are fencing service and Fencing installation Can be done in best price. Due to best service in Affordable price we are known as the best fencing contractors in Tirupur district and in Tamil Nadu.
Why to choose Subi fencing contractors in Tirupur? As your fencing contractor?
Subi fencing contractors in Tirupur we are having nearly 20 years of experience in fencing field and we are known as the marketing leaders in fencing service. Moreover, we are doing all the fencing, service and installation in the reasonable price. We are having our own manufacturing unit where all the fencing materials , RCC compound wall materials are manufactured in good quality.
We are having our own quality checking team Who will be keen on Quality of our products which are going to be delivered and going to be installed for our clients And customers. All the fencing materials are done with Higher grade Tata Metals and with German quality machineries. All the fencing wires are well Galvanized so it will be corrosion resistor and it Will last at least for a decade.
The fencing workers who are Working for us are having nearly 10 to 15 years of work experience in fencing, field and all the fencing Workers are from local areas around Tirupur district. So the new what kind of Fences will be suitable For your property and your location.
As we are having our own manufacturing unit for both fencing and RCC compound wall, we can able to customize The product according to your need. And we can able to Manufacturer all the products in bulk and deliver in the Planned time And location. Moreover, he will be guiding you from the beginning to end of the fencing installation, so we can give assurance that all the fencing works on service will be in top notch.
What are the threats are there around Tirupur and why fencing Installation will be the right solution?
There are many spinning mills and textile garment Oriented Industries around Tirupur, so Creating a boundary around your industry is the must needed essential thing In case you are running a small scale of industry. It will secure your industry from theft activities and bugler activities. So you can raise an fencing wall with 9 feet of height and Razor wire At the top, so no one can able to claim And enter into your boundary.
In case if you are running an animal husbandry or an floriculture Business you must be Keen on the safety about your plants and animals Because there are There are lot of chances of Theft activities and sometimes the animals may ran away from your Farm. So creating an animal husbandry fence like chain link fence will be the right choice.
There are large number of coconut farms Tours Coimbatore district so you should be keen about Coconut steeling thieves who will be Surrounding your farm throughout the night. Creating a barbed wire fence or chain link fence will be the best option.
Land encroachment is the most Common thing right now in Tamil Nadu and moreover in Tirupur, apart from city, the people who are owned land The outer sketch of Tirupur city has an threat of Land encroachment. So you should be Think about fixing and fencing wall using chain link fencing or razor wire fencing. Sometimes. Building an RCC compound wall will be the right choice as It is the cheapest way of building and wall.
These are some of the common threats and fear for the people around Tirupur district.
Our Moto:
To create an healthy competition with our competitors And making our clients and customers happy with Our service. We Subi fencing contractors in Tirupur give products at reasonable price.
Benefits of Installing a fence:
-          It will give more privacy and security.
-          You Can you able to create your own boundary.
-          Your form or industry can be Treat free from wild animals or other people.
-          Can safeguard your properties and land.
-          Creating a fence or RCC compound can be considered as onetime investment.
Our products and services:
We are having our own manufacturing unit and we are Manufacturing our own products and materials for fencing installation And RCC compound installation. With an experience team in fencing and RCC compound installation, we are giving our services to both the fencing and RCC compound. Our products:
Chain link mesh

Razor wire

Barbed wire

RCC compound 

Fencing poles
Chain link mesh supplier in Tirupur:
Chain link fencing is the most used fencing product throughout Tirupur district as it having smooth surface. And it is having a minute gap so no animals or people can enter or project their body parts apart from the fence. This kind of fence can be used for real estate animal husbandry, and  It will be no threatening for the people and animals who are passing through it.
Razor wire supplier in Tirupur:
A blade kind of particle will be projected from the fencing surface and it is the most sharp and rough Fence, which has a high security and privacy. People who has an threat of burglar and theft kind of activities Can Think about razor wire fence.
Barbed wire dealer in Tirupur:
At town kind of structure will be projected from the fencing wire and it it will be an sharpening Surface. People who has a less budget amount and they are willing to create an sharp surfaced fence can Choose barbed wire fence. Most of the agricultural land and industries industrial areas are preferring Barbed wire fence for their fencing work.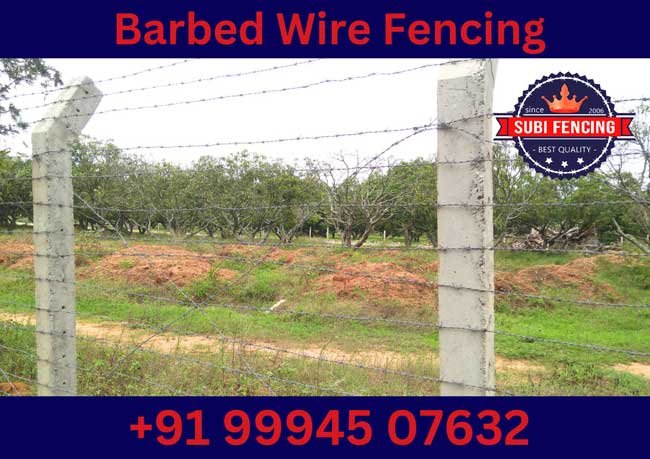 RCC compound slab supplier in Tirupur:
What is a readymade concrete slab which are used to create an wall kind of structure by placing one by one. It is the most cost-efficient thing people and it help people to create and wall Hey. kind of structure. It is one of the by-products of RCC compound.
Fencing poles service in Tirupur:
Fencing poles are manufactured Through many Items like Concrete poles, Stone poles, Metal poles. These Poles will be withstanding the fencing walls.
Testimonials:
Rajesh:
Rajesh is owning a small scale of spinning mill called SV spinning mills in Tirupur district. As he has spent a large amount of money in spending money and machineries, he has no idea of Creating an compound wall in short period of time. But Subi fencing contractor We create an razor wire fencing wall in an Short period of time. And right now, Rajesh is happy with our fencing installation and service. He reviewed as the  Subi fencing Contractors are best fencing contractors in Tirupur.
Suresh Kumar:
Suresh is having 70 acres of cotton field in Tirupur district in an village. And he is supplying cotton for major industries in Tirupur and Coimbatore. Before Air and fire accident has been held in his field Due to unwanted peoples movement. After this instant he approached us and we gave and changing fencing With 7 feet tall and after installing fence, he didn't notice any kind of animal or human movement In his absence. He is very happy with fencing service, so he has planned To call us for upcoming fencing installation and service. He stated that Subi fencing contractors in Tirupur is the best in town.
We are giving free consultation and estimation. For fencing service and installation. Moreover, will be coming to your Place to monitor And inspect what kind of location and environment your property or your industry is located. And we will be guiding you what kind of fence or RCC compound wall will be helpful. To get more information about our fencing service and installation, you can able to visit our website www.subifencingcontractor.in .And we are giving our contact number +91 99945 07632 and we will be available throughout the week from 9:00 AM to 7:00 PM. So you can able to contact us In weekends in your feasible time.  We can able to transport fencing materials and goods at your place.